Gifted Resource Council sponsors Academic Challenge Cup, a series of friendly academic competitions in math and creative problem solving for St. Louis area students.
The games all have one thing in common: they teach children how to think, not what to think.
ACC Requirements:
Students in grades 2nd – 8th
ACC Dates:
Monday, Feb. 26 – Friday, Mar. 1
ACC Location:
University of Missouri – St. Louis (UMSL)
ACC Cost:
Early Bird pricing $90 per team of five through November 22!
Beginning November 23, price increases to $100 per team.
More information is available at the GRC office
Call – 314.962.5920
Email – info@giftedresourcecouncil.org.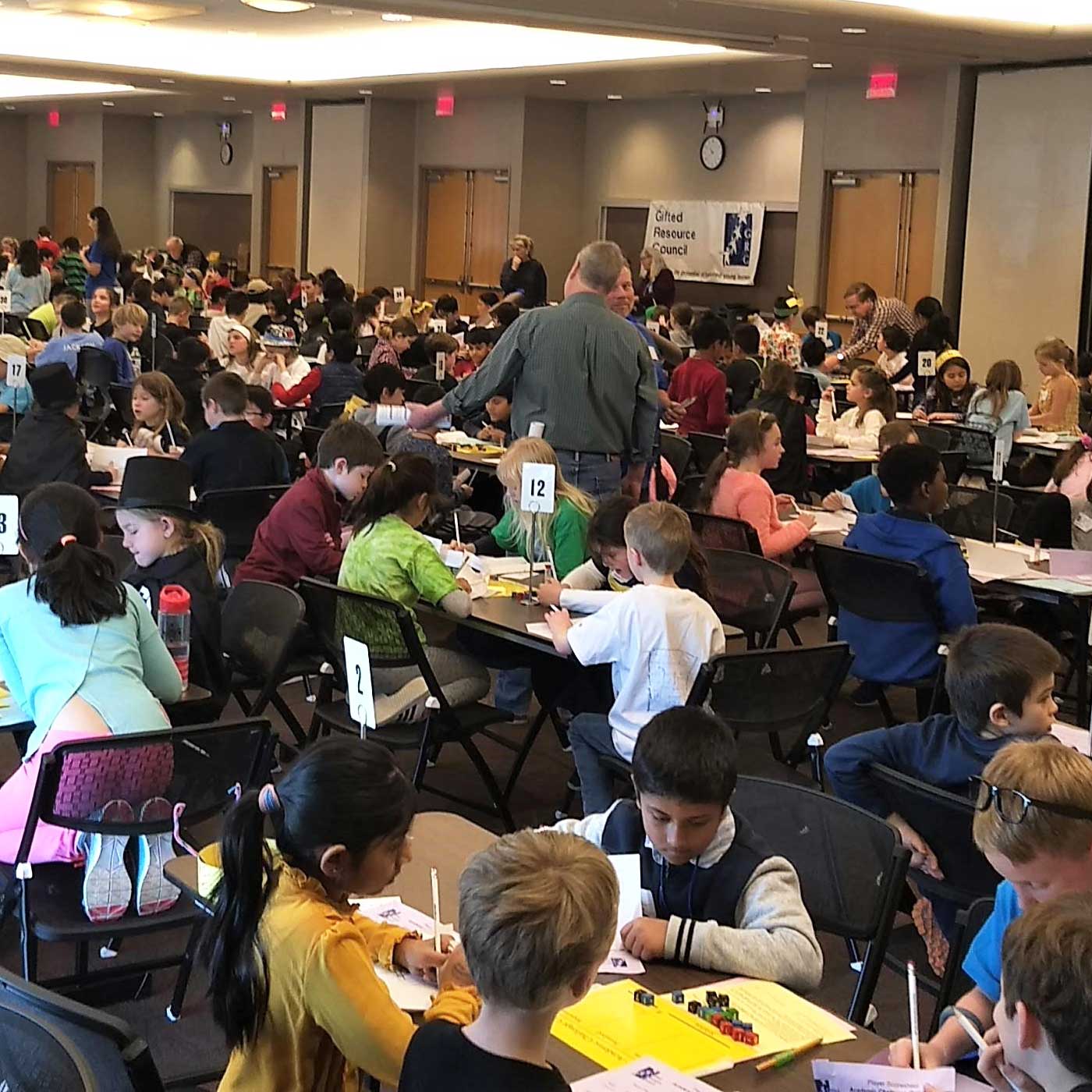 "Thanks again for doing a great job at the recent ACC event. My boy had a great experience!"
- PARENT
EQUATIONS
Grades 6, 7 – 8  (Feb. 26)
Grades 3, 4, 5  (Feb. 27)
Grades 3, 4, 5  (Feb. 28)
Grades 3, 4, 5 (Feb. 29)
A game of creative math that provides players with practice in arithmetic operations and assists in developing an understanding of number concepts, number systems, factors and primes, order of operations, and simple algebraic equations.
Equations players compete against people from other teams in several rounds. The five team members' scores are calculated collectively to determine team winners.
Download a copy of the 2023 Equations rules.
CREATIVE CONVENTION
Grades 2 – 4  (Mar. 1)
This competition requires less advanced preparation, but greatly benefit from creativity exercises, team building work and presentation practice.
Creative Convention teams of five work together to develop, design and construct a solution to a lifestyle problem; teams are scored on teamwork and creative problem-solving.
FREE WORKSHOPS
Students learn to compete with the help of teachers and parents who coach interested students by playing the game and providing strategic tips.
Free workshops are available for parents and teachers to learn the challenging games of Academic Challenge Cup. To take a workshop, please call the GRC Office at (314) 962-5920 to register.
Equations Coaches' Training:
Saturday, Oct. 14, 2023 – 10:00 am – Wydown Middle School (6500 Wydown Blvd., 63105)
Wednesday, Nov. 8, 2023 – 4:30 pm – GRC Office, 10425 Old Olive St. Rd., Ste. LL1, 63141)
Creative Convention Coaches' Training:
Thursday, Nov. 9, 2023 – 4:30 pm – GRC Office, 10425 Old Olive St. Rd., Ste. LL1, 63141)
Saturday, Nov. 11, 2023 – 10:00 am – Wydown Middle School (6500 Wydown Blvd., 63105)
"I love all of the critical thinking I saw happening during this year's rounds. The atmosphere at this year's competition was positive, friendly, and supportive."
- ACC COACH
Academic Challenge Cup 2024
Registration
Fill out the online form and submit payment securely with PayPal using a debit or credit card.

Fill out the online form and submit payment by cash or check. The application will not be processed until receipt of deposit.

Gifted Resource Council
10425 Old Olive Street Rd., LL1
Creve Coeur, MO 63141
"More and more kids are interested in learning the game, and they LOVE playing it. They want to play it all the time! In fourth grade, they have to learn concepts that aren't part of our normal curriculum, so they are challenged even more."
- ACC EQUATIONS COACH