Through our wide variety of Summer Camps, students can explore math, a variety of sciences, history, finance, ecology, and creative expression.
Our six weeks of summer academies programs are subdivided into three two-week sessions for children completing kindergarten through eighth grade. The two-week timeframe is purposefully designed to give students the time necessary to dig deeply into subjects of interest.
Camps include Jr. Science Searchers; Math Marvels & More; Academy Americana; ECO Academy; Ancient Academy; GRC's Space Academy; GRC's Advanced Space Academy; Novel Engineering; Stop Motion Animation; and Animal Academy.
Engaged, hands-on learning is emphasized. Campers also have P.T. (physical training) with activities that also pull from their curriculum, as well as daily recess.
Students do not have to be in their schools' gifted program to participate. However, there is an application process, and we look at standardized test scores (or a recent report card) as well as a teacher recommendation.
Summer Academies Days/Times:
Monday – Friday  9:00 a.m. – 3:30 p.m.
Summer Academies Location:
Wydown Middle School, 6500 Wydown 63105
Summer Academies Tuition & Payment:
Tuition for each 2-week session is $540 for most camps and $550 for Space. Early bird registration (before Jan. 28) is $515 or $525 for Space.
Definitely not! All bright and talented students enjoy our programs.

No! We do challenge kids academically, but GRC is known for engaging children in hands-on activities and encouraging friendships among like-minded peers. Physical activity and recess are part of every day's schedule.

Yes! Before Care is 7:30 – 9:00 a.m. and costs $95/session. After Care is 3:30 – 5:30 and costs $125/session.

A non-refrigerated lunch (with drink) and a willingness to learn and have fun! We strongly discourage electronic devices.

Limited tuition aid is available, based on need. Contact the GRC office for more details.

Every child gets a GRC camp t-shirt (and can buy an extra for $10 if desired).

Pictures will be taken during Summer Academies, and may be used for promotional purposes. If you do not want your child's photo used, please contact the office in writing before the start of camp.
"I wish we could do all three sessions because it is the best thing we do all summer."
– PARENT OF 1ST & 3RD GRADE GIRLS
Summer Academies Schedule
Summer 2023
ECO Academy
(Completing Grades 3 – 8)


CAMP FULL for Grades 3rd & 4th

Math, Marvels & More
(Completing Grades K – 2)
Stop Motion Animation –NEW!
(Completing Grades 1 – 2)


CAMP FULL

Animal Academy –NEW!
(Completing Grades 3 – 8)


CAMP FULL
Session 2:  June 26 – July 7
Ancient Academy


CAMP FULL

Jr. Science Searchers
(Completing Kindergarten)


CAMP FULL

Novel Engineering
(Completing Grades 1 – 2)


CAMP FULL

GRC's Space Academy
(Completing Grades 1 – 5)


CAMP FULL for Grades 3rd & 4th

GRC's Advanced Space Academy
(Completing Grades 6 – 8)
Academy Americana
(Completing Grades 1 – 3)
Ancient Academy
(Completing Grades 3 – 8)
Jr. Science Searchers
(Completing Kindergarten)


TWO SPOTS left

GRC's Space Academy
(Completing Grades 1 – 5)


ONE SPOT left for Grades 3rd & 4th; other grades open

GRC's Advanced Space Academy
(Completing Grades 6 – 8)


THREE SPOTS left
"They're very excited! It's the ONE camp they really want to go to every year."
– PARENT OF 5TH & 8TH GRADE BOYS
Summer Academies Descriptions
Summer 2023
Camps offer new themes and activities each year. For example, students who attended Space Academy last year can come back this summer for all new material! Some students take the "same camp" 3 or 4 years in a row, with fresh curriculum each summer.
Session 1: June 12 – June 23
Handle all the real-world aspects of this camp's pop-up business: finance, sales, marketing & production. What's the product? Our Winter Learning Lab students will be pitching their ideas for this summer's creation! Whatever it is, we'll look at how your product is made. Learn about the effects on the environment. How can we lessen those? What are low-impact ways to create a high-impact product? Examine cash flow and stock distributions (and play the Stock Market Game!). Consider environmentally friendly ways to market, package and distribute your products. What will your sustainable business model look like? Scientific inquiry, advertising art, decision-making skills, financial and mathematical interests—bring any and all of these talents to ECO Academy!

Experience three camps-in-one each day as you explore Math, Science and Creative Expression! Explore the physics of force, motion and electrical circuits. Launch airplanes, rockets, cars and wind-powered sailboats to experiment with Newton's laws. Use magnetoscopes to identify attraction of opposite charges, and crash Hot Wheels™ cars to unravel clues about force in motion.

Be a problem solver! Discover how to decode algebraic equations with variables. Race for answers in an Integer Bee. Practice flexible mathematical thinking with the game of Hando. Use your critical thinking skills to locate treasures on a giant Cartesian graph.

Create zany, interactive designs and transmit your energy into art! Experiment with sound waves and movement, craft and motion. Apply kinetic and potential energy to your pendulum art. Capture the unique designs produced by the movement of gears.

An electrifying two weeks of high-wattage fun! (Students will be divided into age-appropriate groups, with curriculum adjusted accordingly).

Directing, storytelling, building, editing, designing! In this high-energy, hands-on camp, you'll use all these skills to create your own mini movies using stop motion animation and iPads. We'll start off using LEGOS and then step it up to using Play Dough or actual people. You'll create characters, props, scenery & sound effects! Add in your own music or voice. We'll also watch clips of different styles of stop motion animation for inspiration and to see how the pros do it. Explore your creativity while learning technical skills! The grand finale will be a mini film festival to premiere everyone's creations.

Join the adventure of a lifetime and become a champion of conservation! From keeping the smallest animals to some of the largest, what makes a good pet? From "man's best friend" to creating the rainforest in a box within our homes, we are driven to connect with nature. Make your own pollinator house and then as a class we'll build a composting bin to observe throughout camp. Discuss how modern day video games could be used to help with conservation. Then we'll investigate animals such as: tigers, elephants, poison dart frogs, bushmasters, and Komodo dragons! We'll weigh out the pros and cons of keeping animals in captivity versus in the wild. What's the impact on biodiversity? Does having captive species assist in sustaining species in the wild through breeding and education? And what can we do to ensure their survival for generations to come? These are just a few of the questions we will dive into during this fast-paced exploration!
Session 2: June 26 – July 7
Farmers, weekend warriors, lovers, poets. Vikings were not the two-dimensional double-headed-axe-swinging, club-wielding marauders portrayed in comics, Okay, maybe on weekends. But they had full lives, industry, community, music, and art. Explore the rich Norse mythology as we read the Poetic Edda. Create banners and shields with Nordic runes. Discover who worked with and against the "invaders." Become a Norseman and live the Viking way through an interactive role-playing game. Challenge Rick Riordan's and the Marvel visions of Viking mythology, religion, and social structure. Let's Go Viking!

Don your paleontologist hat for dinosaur explorations! Hatch a dinosaur egg, while considering carnivores, herbivores and omnivores. Explore continental drift. Construct fossils and explore body types and teeth structures of dinosaurs. How did they evolve in the different geologic periods? How did their bodies change from fish-like creatures to a tyrannosaurus rex? What made them all extinct? Then join the 'safari' as we locate tropical rainforests on a map. Why is the rainforest important? How do plants, as well as animals like monkeys, bats and frogs, survive? Make your own tropical spice blend. What other rainforest resources do we use every day? Lots of hands-on activities and projects.

Books & Bridges! Tales & Tools! Paragraphs & Problems! Like to read? Like to build? In this high-touch, hands-on camp you'll read a broad range of books and identify problems that characters face. You'll brainstorm solutions based on the character's needs and constraints of the text. Then work with your team to design and build realistic solutions for the characters to use. Test your solution, then refine it to make it even better! Collaboration, communication, creativity and critical thinking are key elements. Problem solve with your favorite characters in this "novel" summer camp! (Novel Engineering is an approach originally developed by Tufts University to teach students the engineering process and link it to problems to fix, all through engaging literature.)

We last set foot on the moon 50 years ago. And we're doing it again. So now what? Let's look at what moon travel is good for. We'll examine it as a jumping-off point for Mars travel. What would it take to put a base on the moon? What resources are there already? What did we leave there the first time and why? Who should get to go to the moon? To Mars? We'll do some electrolysis experiments with water, and a mirror/laser activity. And of course, it wouldn't be Space Academy without creating/coding some LEGO robots, and building/launching model rockets! (Students will be divided into smaller groups by grade, and curriculum adjusted accordingly.)

Moon missions, Mars missions, and more! Design your own permanent moon base – look at issues from practicality to ethics. How would you set up a new society there? Examine the logistics of building a lunar gateway – what are the advantages and disadvantages of launching missions from the moon? Lots of hands-on activities, including building/coding LEGO Mindstorms EV3 robots, and building/launching model rockets!
Travel back to early America—but be prepared! It's a tough life, no matter who you are. Chores, walking to school—day-to-day life was a LOT of work. Make your own haversack, practice writing lessons with a quill, and enjoy colonial games with your friends. Become an apprentice to a local tinsmith, blacksmith or printer. Join the Culper Spy Ring and learn to decode messages. Explore the identities of people who are often overlooked during this time period—what were their lives like? Then use democratic principles from the Declaration of Independence and Constitution to create your own system of laws. How would you change these to make them more equitable and inclusive? History has its eyes on you!

From the depths of your imagination arise a Viking. Raid your way through Europe. Explore your way to the Americas. Build settlements along the way. Embrace your inner Norse as you participate in interactive games and battle your way across Europe and beyond! Learn the ways of the seafarer, and how to get to your destination through technology. Build a longboat and navigate your way by the stars. Learn the technology needed to exist within this dynamic culture. From navigation to hunting there's more to the Norse than meets the eye!

Plunge into the mysteries of the ocean. Meet sea animals, large and small, friendly and dangerous. How do their babies live? Make edible aquariums. How is a coral reef like a giant apartment building? Clean up a mini oil spill and find out how we can protect the ocean. Then explore the sun, moon, planets and stars! Create a replica of the surface of the moon. Look at its sea, volcanoes and Apollo landings, and build your own miniature 'moon rover.' How far can you jump on the moon? Calculate your weight on other planets. Harness the energy of the sun in your solar oven to roast toasty marshmallows.

What impacts have humans had on space? What impacts has space had on humans? We'll explore all sorts of ideas: the problem of space debris; the ability to move asteroids; inventions like Zip-Lock bags and lithium ion batteries. We'll check out sunspots, observe yeast under a microscope and grow our own crystals like astronauts do in microgravity. And of course, it wouldn't be Space Academy without creating/coding some LEGO robots, and building/launching model rockets! (Students will be divided into smaller groups by grade, and curriculum adjusted accordingly.)

A more advanced exploration of the impacts of space on humans and vice versa. What about solar effects on our power grid? Using satellite imagery to study ancient Mayan and Egyptian cultures? What kind of experiments are we doing on space stations? What will be the practical applications of those back on Earth? And of course, it wouldn't be Space Academy without creating/coding some LEGO Mindstorm EV3 robots, and building/launching model rockets!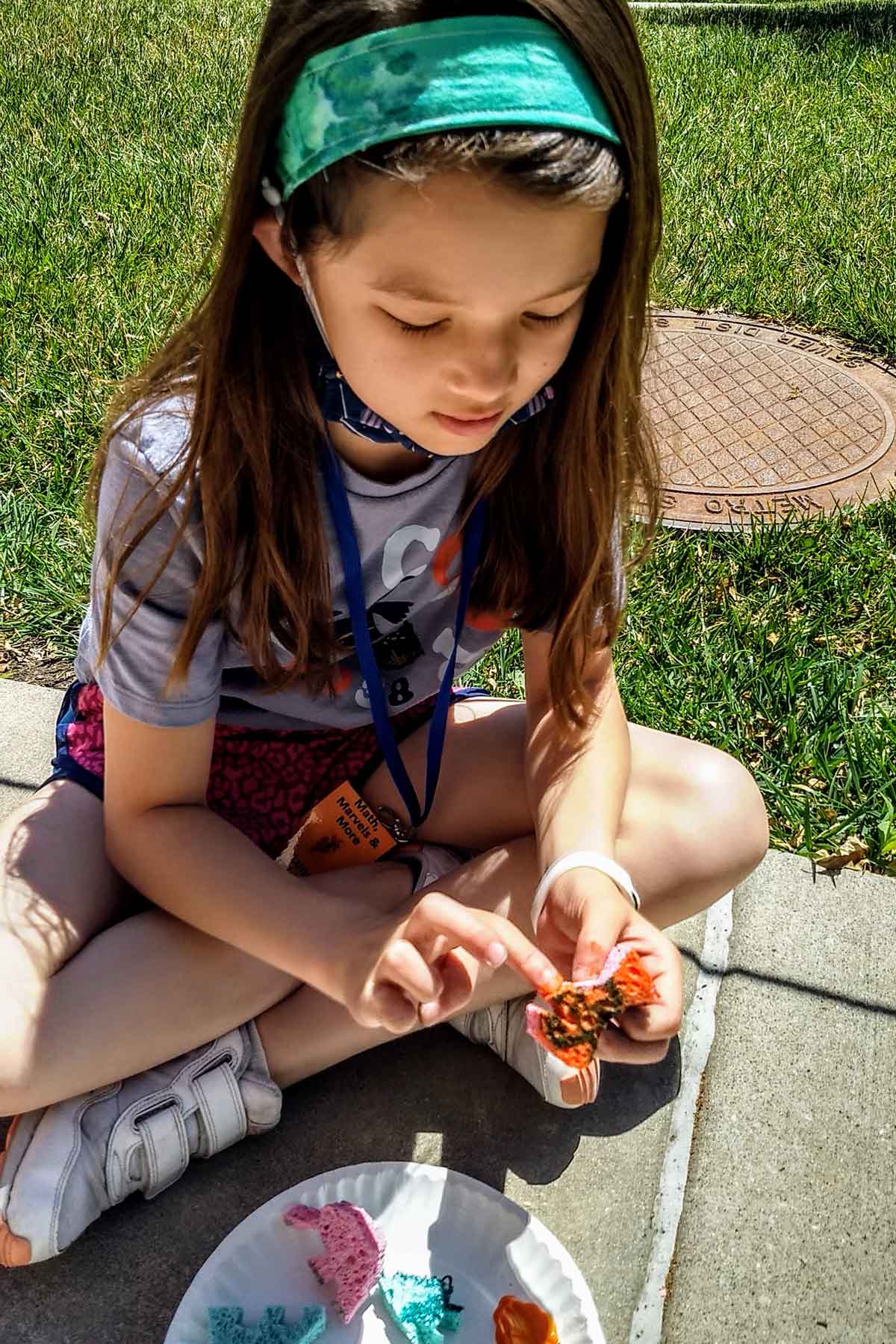 "Every day on the car ride home and during dinner, the kids would talk about all the interesting things they learned about at camp that day. It has certainly been an enriching and fun experience for them. They are already asking about next summer!"
– PARENT OF 1ST & 3RD GRADE GIRLS
Summer Academies Registration
Summer 2023
Summer Academies registration is closed.